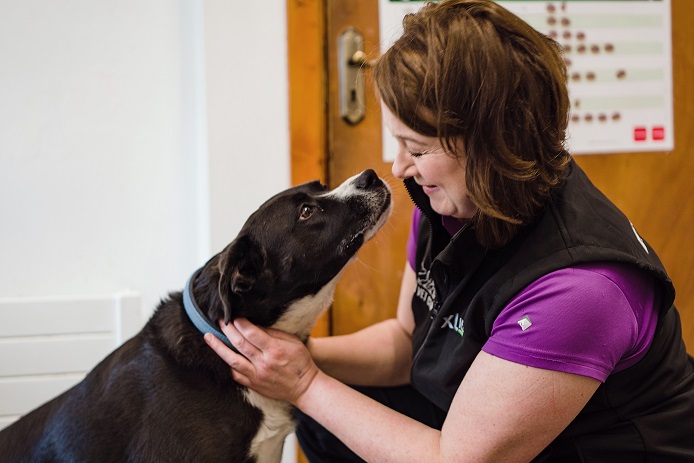 Carn Vet Clinic has launched new website and app services to improve online support for pet owners. "The pandemic forced everyone to review what they offer online," says Fidelma Tonry, owner of the Carndonagh clinic. "So, we turned a challenge into an opportunity to innovate and create new ways for pet owners to access our services."
"Clinic visits are running as normal with Covid safety procedures," emphasises Fidelma. "But our new PetsApp service allow pet owners to order pet food, products or repeat prescriptions. They can also pay bills online, to save them coming into the clinic."
"Clients can also contact us via PetsApp or our website for enquiries, and to request appointments and video consultations. Even as restrictions ease, online services suit many people as they can save time and travel. Our vet nurses can also use PetsApp to keep clients updated about pets who have had surgical procedures at the clinic."
"The App is free to download and offers the facility to book a face-to-face consultation with your vet without leaving home. This reduces stress for you, and your pet during the pandemic." Fidelma says that for some pet owners, it's also a great long-term option.
"Not every pet travels well, which is difficult for both the owner and the pet. Now they won't have to worry about getting them into cat or dog carriers or vomiting in the car!"
The new app allows clients to chat with staff, book appointments, order medication and get personalised pet care advice. Clients can also pay for treatment faster and more securely – without giving out personal financial data over the phone.
Fidelma says PetsApp is the number 1 rated veterinary app, and it's great not just for clients but for vets too. "We can keep customers up-to-date about in-patients, treatments, or anything else important to them."
Fidelma says their new website www.carnvet.ie offers a wealth of useful information for pet owners. "There is lots of guidance about pet care, health, common conditions and more. We have worked hard to create online advice for the owners of puppies, dogs, kittens and cats in particular."
Carn Vet Clinic is a multidisciplinary veterinary practice serving Inishowen. Situated centrally in Carndonagh, they offer veterinary care for all animals, big & small. "We have served the needs of the farmers and pet owners of Inishowen for generations," says Fidelma, who has worked as a vet in Carndonagh since 1992.
Fidelma is fully supported by a first-class professional team of dedicated & passionate vets, vet nurses & support staff. This multi-disciplinary team work closely together to provide the best possible care for your animal.
Fidelma says their success lies in "our caring, friendly, and compassionate approach. We combine this with our commitment to the health, welfare & comfort of the animals in our care. We provide emergency care 24/7 365 days a year for both pets & farm animals." Find out more on their website at www.carnvet.ie or call +353 74 937 4127 during the daytime (Emergency Calls are on: +353 749374034). You can also email them on info@carnvet.ie